Engaged staff = Happy staff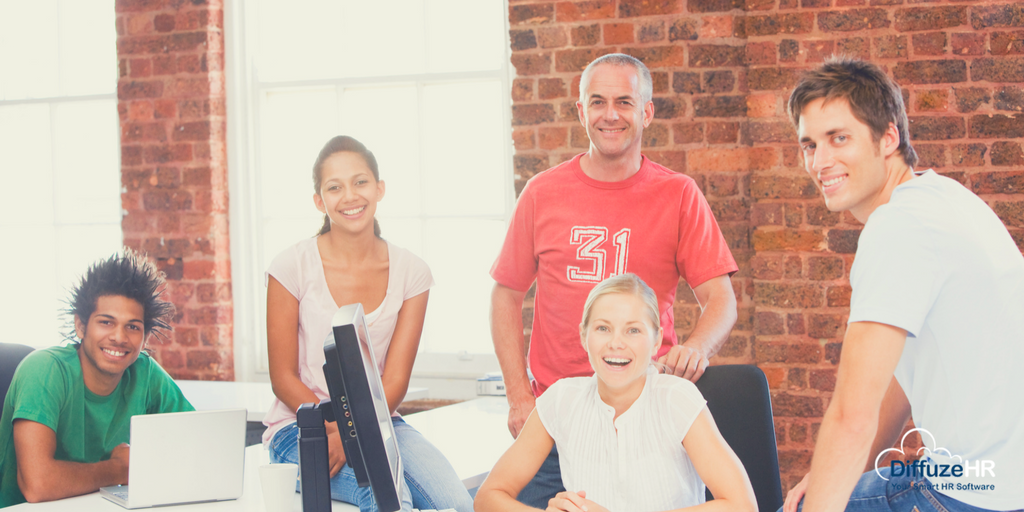 The importance of employee engagement can't be understated – It's one of the key elements of a having a successful and productive business.
There have been endless studies that show that engaged employees are assets to your business. They are more likely to voluntarily invest extra time and effort into their jobs and more likely to contribute to your business' success.  But most importantly engaged employees are happier, both at work and in their personal lives. Engagement gives employees a greater sense of purpose towards their role and as a result they are far more enthusiastic about the work they do.  
But employee engagement isn't something that just happens by itself – businesses need to take an active interest if they are to reap the benefits. Rather than overworking and overwhelming your staff with extra activities that need to be completed, it's about finding simple ways to make your workplace enjoyable, supportive and productive.
STAY HEALTHY AND HAPPY
Get to know the health issues affecting your employees so that you can design better programs to improve their health and well-being. Try offering things like health assessments, employee assistance programs and wellness programs to help foster healthy practices such as consuming a balanced diet and exercising.
I know of one business that offered a "skin check "assessment for staff before the start of summer and another that offered 15 min massages from a qualified sports masseuse on Fridays. These activities went a long way towards making staff feel appreciated.
GET SOCIAL
Get to know your employees, and allow them time to get to know each other, in a social setting. You might just be amazed at how it improves working relationships.  When staff get to know each other on a social level they get a greater understanding of the people they work with. You could offer monthly social occasions after work, volunteer together or host family fun days. Whatever you do, the more interest you show in your employees, the happier they'll be to work hard for you.
FACTOR IN FITNESS
There's no better way to get the endorphins pumping than by walking, running or riding to work, or hitting the pavement at lunch time. Even better, try to encourage your staff to participate in team sports or activities to help boost team spirit and morale.
MAKE YOURSELF ACCESSIBLE
Try to make yourself available and approachable as much as possible so that you can get to the heart of issues early. This also means you can easily reframe ideas, create informal bonds that encourage collaboration, and make your organisation healthier and more productive. Don't forget to acknowledge your staff when they complete a project on time, bring something unique to your business, or exceed their targets. Making them feel appreciated for their hard work is a surefire way to boost engagement.
OFFER ONGOING LEARNING
To help bolster motivation and engagement, make sure your employees can see opportunities for career growth and development. You can do this by having weekly or monthly check-ins to discuss their progress. A good cloud-based HR platform will allow you to record these discussions online for both you and the employee to keep track of the progress being made. Be sure to always schedule follow-up discussions about quality improvement plans and professional development opportunities.
ENSURE YOU ENGAGE YOUR STAFF EARLY
When research shows 25 per cent of employees leave their jobs after just three months, you know introducing onboarding software to help engage new hires, establish consistency and ditch the reams of HR paperwork is a smart move. A cloud-based HR system allows for the onboarding experience to be a personal one. Documents are tailored specifically to the employee and they immediately start to get an understanding of your business and begin engaging with you, your company values, other staff and personal growth opportunities from the get-go.
---
DiffuzeHR is transforming the way SMEs approach HR by giving them access to an easy-to-use, cloud-based system (and the smarts) to systemize and simplify, ramp professionalism, and gain proactive control. DiffuzeHR helps SMEs by allowing them to minimise risks, reduce legal fees, decrease time spent on admin, attract and retain staff, and leverage best-practice, industry-specific HR and legal expertise in a way that is simple, easy, and efficient. 
To learn more about the benefits of automating HR with DiffuzeHR, please book a demo at http://diffuze.com.au/.
Share this Blog!