DiffuzeHR's Festive Guide – Keeping it safe and fun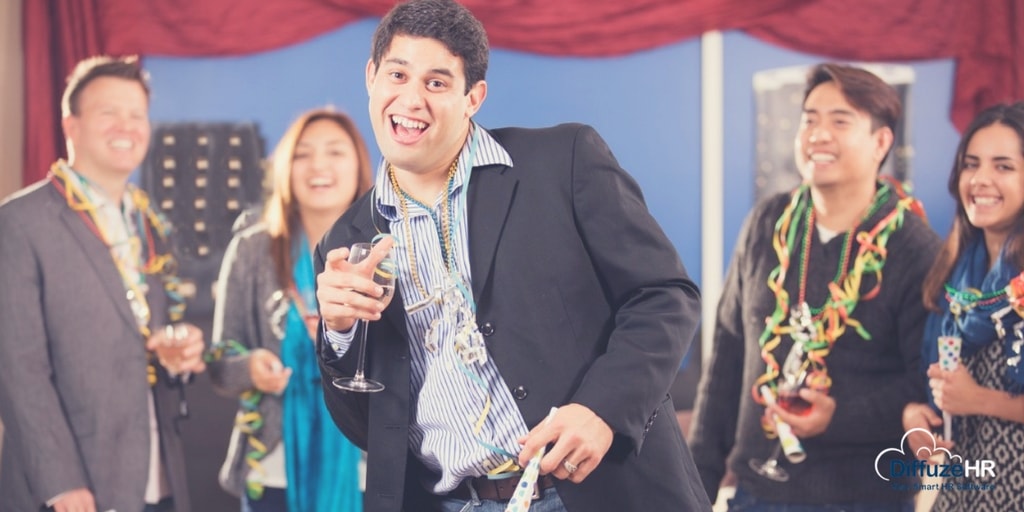 The festive season is a wonderful time. For a business, it is a great opportunity to build relationships with employees, clients, suppliers and all the people who are integral to your business success. It also gives a great chance for the business to reflect on the year's achievements and successes whilst also providing an opportunity to 'let your hair' down. It's great!
So, let's PARTY!!! Hold up a moment – there are few things that need to be sorted out first. Each business needs to ensure that the celebration is appropriate to the organisation, protects employees and others alike and does not expose your business to unnecessary risk.
Christmas and New Year period leave
During this time, one of the first questions many businesses face relates to leave:
* Can you force employees to take leave during the Christmas and New Year Period?
* What if employees don't have enough leave?
* What if two people have requested the same period of leave? Can I accept one and not the other?
This is not an easy one size fits all answer, however, if you want to have a 'Christmas Shutdown' or require employees to take leave then you need to act now.
The DiffuzeHR Leave Policy covers this scenario and if you have implemented it appropriately you are likely to be in the best position to enforce these requirements. However, as terms and conditions vary so widely we recommend for those who have a DiffuzeHR subscription to contact HR Legal through the 'Contact Us' form located on the HR dashboard to discuss your obligations.
Why are we celebrating?
The celebration should be designed to meet your business needs. The celebration is important and a major part of our Australian workplace culture. However, as a business it is imperative to ask and answer the following questions …
Why are we doing this? What are we trying to achieve by having this celebration? Deepening the connection within a team? Reward? Recognition? A chance to relax together? An opportunity to celebrate success? An opportunity to meet people from other areas of the business?
Some of these are very different and even contradictory (e.g. deepening the connection within a team vs. meet people from other areas of the business). Therefore, you do need to:
1. Determine why you're having the celebration;
2. Prioritise your reasons; and
3. Design a celebration to meet your business needs and objectives.
It will be a CELEBRATION!
So now that we understand why we are celebrating and have designed a great end of year event, we need to ensure that all reasonable measures pertaining to safety and behaviour expectations have been taken. This will reduce the risk of any event going 'off the rails'.
So, with this in mind here are some pointers (though this is not an exhaustive list):
1. Send out a communication to all employees (see an example below) detailing the celebration including: a reminder that this is a work event and all Company policies still apply, the aims of the celebration, expected behaviours, ways that you'll help to make it safe and fun, potential consequences for poor behaviour and what to do if there is an issue.
2. Set clear start and finish times.
3. Ensure that if alcohol is available, it is served responsibly and there is plenty of food and non-alcoholic drinks available.
4. Consider how you can provide arrangements for employees to get home after the event, such as organising transport to and from the venue
5. Nominate contact people/supervisors for the celebration
Remember, you should make sure that your insurances cover the celebration that you are organising.
What if something goes wrong?
Unfortunately, as we know and despite the best laid plans, things can still go wrong. So, if an incident happens there are number of steps you should take that are all detailed in DiffuzeHR.
1. Ensure the immediate safety, security, health and wellbeing of your employee
You should take all necessary steps to ensure that an affected employee is safe and secure and that any immediate harm or risk to their well-being is removed. What this requires will depend on the circumstances, however your employee's wellbeing should be your priority.
2. Employee Incident Report Form
At the earliest appropriate time have the affected employee complete an Incident Report Form. You should encourage the employee to provide as much detail as possible. This will ensure that you are in a better position to determine the appropriate steps to take and make the requisite decision.
3. Incident & Investigation Form
If appropriate, you should then commence your own internal investigation to help you to verify the truth of a situation. Within DiffuzeHR is the Incident & Investigation Form, a form specifically designed to support your investigation and assist in determining the most appropriate course of action.
In addition, when interviewing people, a Record of Conversation Form should be used to ensure that all relevant information is captured and recorded. Using these forms will assist you in gathering the necessary information and to follow the appropriate and legally applicable process to decide on whether disciplinary action is warranted and if so, what type of disciplinary action should be taken.
4. Disciplinary Action
If, because of your investigation you determine that a Formal Warning or Termination of employment is appropriate you should use the Formal Written Warning Form or the Termination Decision Record. These documents will assist you in appropriately and legally recording the basis for your decision and taking the necessary action.
You should contact HR Legal on (03) 9948 2450 PRIOR to making a decision regarding termination or if you are concerned about what level of formal disciplinary action may be appropriate.
So, in summary carefully plan your celebration. Give careful thought about why you are celebrating. And then to how best you can organise an event that meets your business goals, is safe & inclusive, and does not expose your people and business to any unnecessary risks. Remember if you have any concerns at all please contact HR Legal on (03) 9948 2450.
You may download the guide here. HAPPY END OF YEAR!!!
Share this Blog!